Villa Lehtoniemi – a luxurious holiday home in Rovaniemi's countryside
GREAT AND PEACEFUL LOCATION IN ROVANIEMI
Villa Lehtoniemi is a magnificent large villa by the lake, surrounded by the beautiful and peaceful landscapes of Lapland. This ecological villa was completed in 2022. Our holiday home is located only a half-hour drive from Santa Claus Village and the centre of Rovaniemi.
FULLY EQUIPPED HOLIDAY VILLA
Thanks to the villa's many large windows, you can enjoy the surrounding scenery from inside the villa. You can also, for example, see the Northern Lights from any of the five bedrooms. The house has facilities on two floors: the ground floor offers a large kitchen and bedroom with a double bed. The Villa also features a sauna, washroom, dressing room, utility room and so on.
ENJOY OUR FINNISH SAUNA
The Finnish sauna is a substantial part of Finnish culture. In Lapland, going to sauna is part of our wellbeing, and Villa Lehtoniemi presents a great sauna. Sit back and let the warmth suffuse your entire body, relaxing your muscles and clearing your mind.
LAKE JUST NEARBY
Cozy Villa Lehtoniemi is situated on the banks of the picturesque lake Sonkajärvi. Villa Lehtoniemi has a gently sloping sandy beach and a rowboat.
FAMILY FUN WITH SLEDDING
The slope from the cabin to the beach on Lake Sonkajärvi doubles as an excellent sledding hill in winter. Great winter fun for the whole family guaranteed!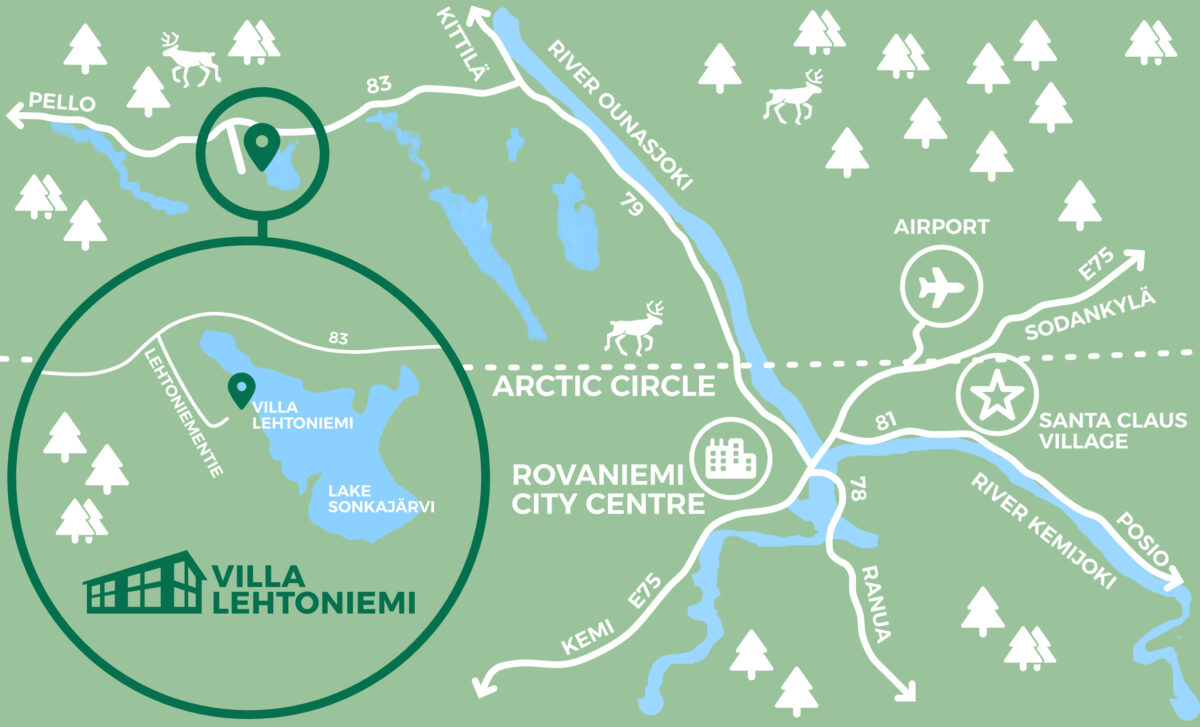 VILLA LEHTONIEMI
ROVANIEMI, LAPLAND, FINLAND
30 min drive from the centre of Rovaniemi & airport
30 min drive from Santa Claus Village at the Arctic Circle
10 min drive from Arctic Snow Hotel & Glass Igloos